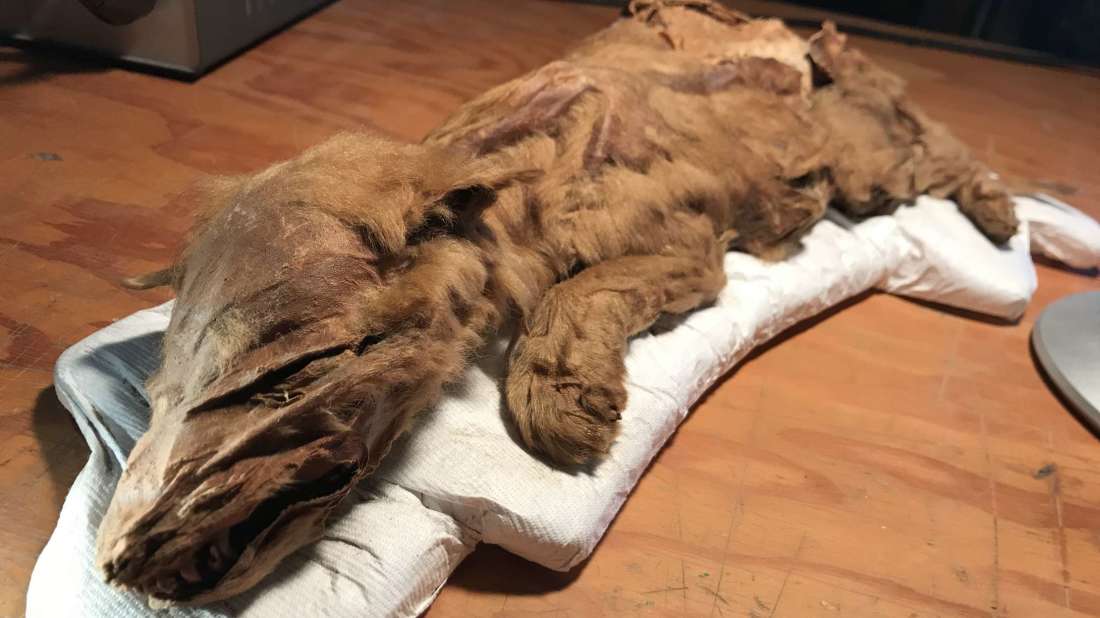 Officials in Canada recently announced that gold miners in Yukon territory unearthed a mummified wolf pup and caribou calf, both of which roamed the continent during the Ice Age, CBC News reports.
Frozen in the ground for more than 50,000 years, the creatures were unveiled last week at the cultural center of the Tr'ondëk Hwëch'in First Nation in Dawson City.
Advertisement
The two specimens have both been carbon-dated to more than 50,000 years old, are both remarkably well-preserved, with fur, skin and muscle tissue still intact.
While fossils from this period often turn up in the Yukon, fully intact carcasses are a lot rarer, Yukon government paleontologist Grant Zazula told CBC News. "To our knowledge, this is the only mummified Ice Age wolf ever found in the world," Zazula said.
the wolf is the better-preserved of the two specimens, retaining everything from its fur to its tail and curled upper lip. Researchers believe the pup died when it was roughly eight weeks old. The caribou is in somewhat worse condition, with only its head, torso and front limbs intact, but like the wolf, it provides a singular example of mummified animal skin, muscle, and hair.
Advertisement
"When you look at fossil bones, that's one thing,"

"But when you actually see a whole animal from an ancient time, it brings that ancient time to life. It just makes you ponder about the amazing changes that have happened in the environment, the climate and the animal community since that time."
– Zazula concludes.
The mummified animals are now on display at the Dänojà Zho Cultural Centre in Dawson City, where they'll stay for the rest of the month. The Yukon government says the specimens will ultimately be incorporated into an exhibit at the Beringia Interpretive Centre in Whitehorse.