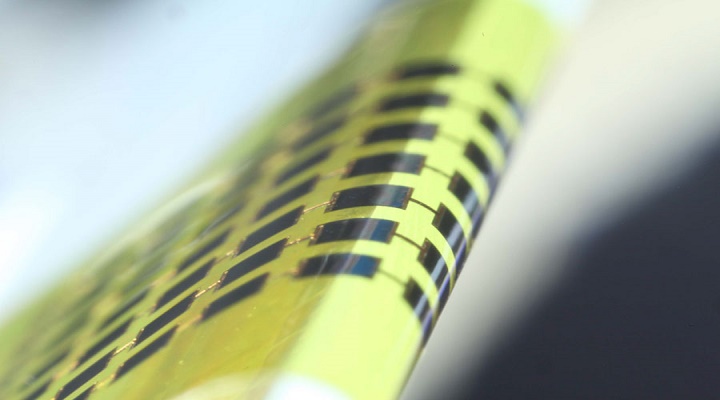 Researchers in South Korea have developed super thin and flexible solar cells that will dress us and our electronic gadgets in the future – according to the researchers.
Body near technology such as smart glasses, watches and activity bracelets that measure pulse and movement have become increasingly popular in recent years. Electronic clothes will be the next big thing according to some – making it possible to use the jacket sleeve as a remote control for devices.
Advertisement
Now, South Korean researchers have developed a new kind of solar cell, which they believe will be able to make this near body technology more viable – making us into power plants.
By attaching the semiconductor material gallium arsenide on a thin plastic material, the researchers have succeeded in producing solar cells thinner than a human hair, which can be bent around a millimeter thin surfaces.
Following the same logic as a thin paper is more flexible than a carton, this ultra-thin solar cell is more flexible than regular thick cells.
These solar cells have an efficiency of 15 percent. This means that 15 percent of the solar energy can be converted into electricity. This is a lower level efficiency (the world record for solar cell efficiency at 46%), but common on most roofs today.
Gallium arsenide is better at absorbing sunlight than silicon, which is the most common solar cell material. This implies that you can have a hundred times thinner material than when using silica. The negative aspect here is that arsenic isn't very environmentally friendly, but perhaps other materials can replace it.
Advertisement
Ultra thin solar cell materials is a hot research area and it will probably be even more so in the near future.
_____________
Kim J. Et. Al. "Ultra-thin flexible GaAs photovoltaics in vertical forms printed on metal surfaces without interlayer adhesives", Applied Physics letters, DOI: 10.1063/1.4954039
__________________________