Tesla's new solar park at Ta'u in the Pacific enables all its inhabitants to be fully supplied with energy from the sun.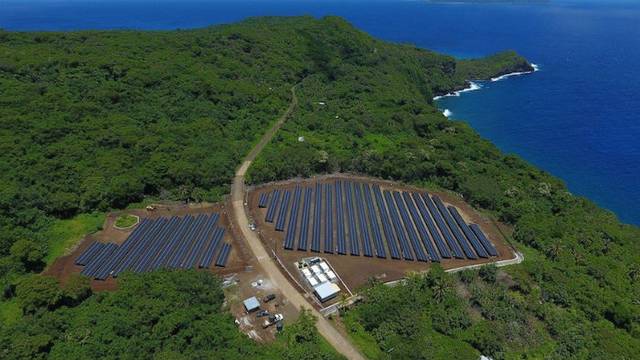 The 44 square kilometer island of Ta'u, in American Samoa, is inhabited by 1,400 people who have previously relied solely on diesel generators to meet their energy needs. The generators have consumed over a thousand liters of diesel each day, which translates to nearly half a million liters (109,500 gallons) a year.
The diesel generators have now been replaced with 5,328 solar panels and 60 Powerpack lithium-ion batteries from Tesla. The facility can store 6 MWh of electricity, which is enough to cover the island's energy needs around the clock at night time and cloudy days.
In addition to the plant at Ta'u, Tesla and SolarCity have several similar projects in the future. Among other things, they got a 20-year contract to manufacture and operate a new system of solar cells and storage of 52 megawatts with an energy cooperative in Hawaii.
In an announcement, SolarCity said, "Ta'u is not a postcard from the future, it's a snapshot of what is possible right now. Renewable power is an economical, practical solution for a growing number of locations and energy needs, and islands that have traditionally relied on fossil fuels can easily transition to microgrids powered by solar and storage today."
The project was funded by the American Samoa Power Authority, the Environmental Protection Agency, and the Department of Interior, and is expected to allow the island to save significantly on energy costs.
Reference:
Island in the Sun