Over large parts of the world, the proportion of overweight children has increased sharply over the past 40 years, a new study shows.
The proportion of overweight children increases sharply globally and has increased as much as tenfold in some countries over the past 40 years. This, according to a new international study published in the journal The Lancet.
Advertisement
While the proportion of underweight children has decreased, obesity has increased sharply in almost all of the 200 countries studied between 1975 and 2016.
The study analysed weight and height measurements from nearly 130 million people aged over five years (31.5 million people aged five to 19, and 97.4 million aged 20 and older), making it the largest epidemiological study ever. More than 1,000 contributors participated in the study, which looked at body mass index (BMI) and how obesity has changed worldwide from 1975 to 2016.
Globally, more kids and teens — an estimated 117 million boys and 75 million girls — were moderately or severely underweight in 2016. The total number of obese children is expected to overtake the moderately or severely underweight total by 2022.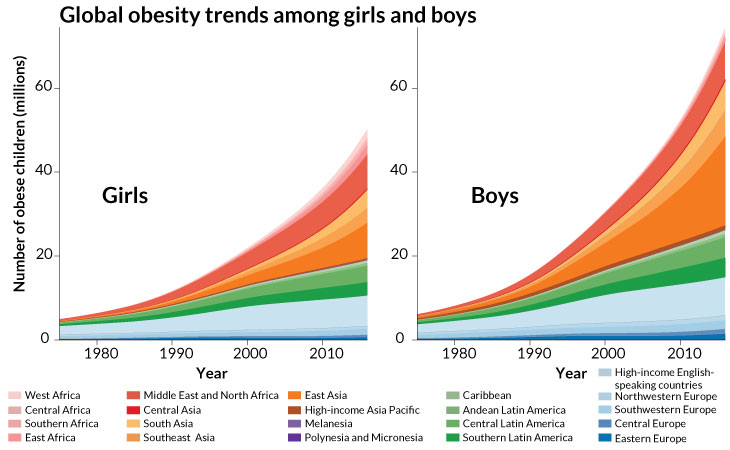 Obesity rates in the world's children and adolescents increased from less than 1% (equivalent to five million girls and six million boys) in 1975 to nearly 6% in girls (50 million) and nearly 8% in boys (74 million) in 2016.
Combined, the number of obese five to 19-year-olds rose more than tenfold globally, from 11 million in 1975 to 124 million in 2016. An additional 213 million were overweight in 2016 but fell below the threshold for obesity.
Advertisement
Reference:
"Worldwide trends in body mass index, underweight, overweight, and obesity from 1975 to 2016: a pooled analysis of 2416 population-based measurement studies in 128 · 9 million children, adolescents, and adults." The Lancet, October 2017. DOI: http://dx.doi.org/10.1016/S0140-6736(17)32129-3.