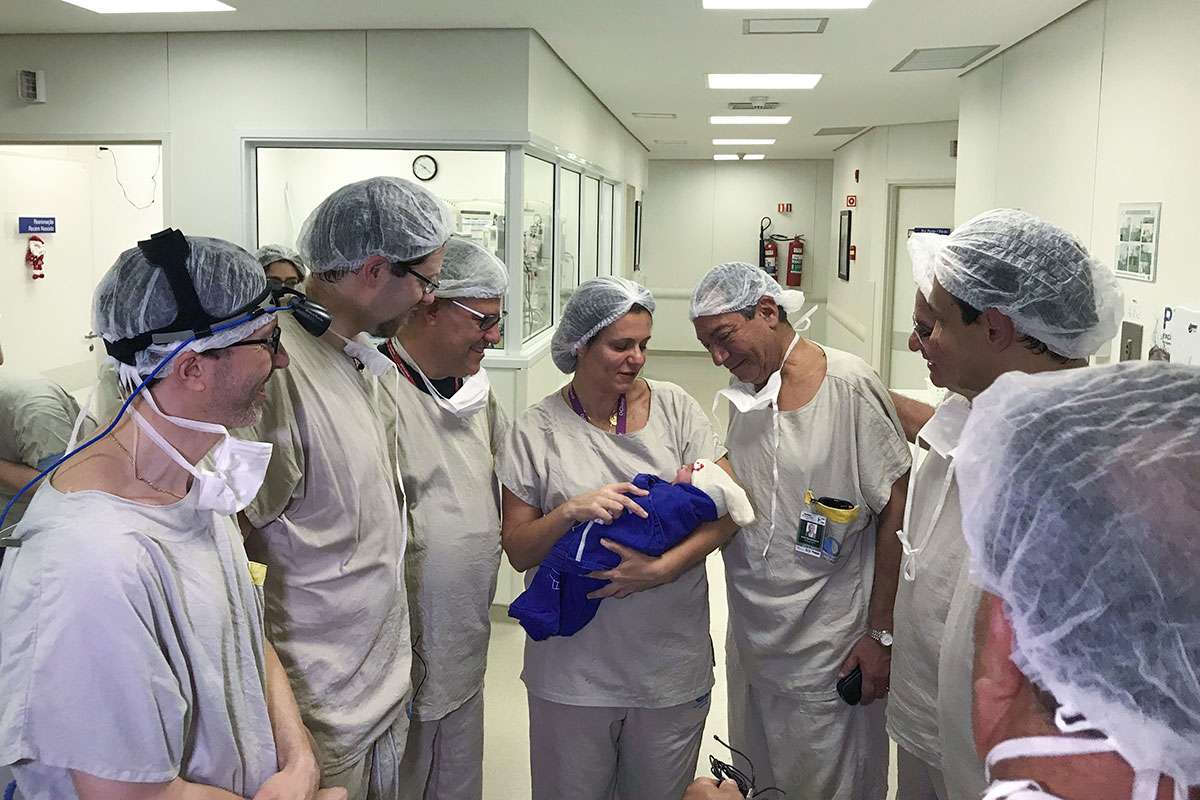 A woman has given birth to a healthy baby girl after surgeons implanted a uterus in her body taken from a dead person. The birth, in Brazil, is the first reported involving a deceased donor uterus transplant.
For the first time, a baby has been born to a woman who received a uterus transplant from a deceased donor, according to Hospital das Clínicas at the University of São Paulo School of Medicine in Brazil.
Advertisement
The uterus (or womb) is shaped like a topsy-turvy pear and sits within the pelvis, it is the female reproductive organ that houses and nourishes the fetus until birth.
At least a dozen children have been born to women with transplanted uteri donated by a living relative, but this is the first transplantation from a deceased donor, noted the authors of the study, which was published Tuesday in the medical journal The Lancet.
Using a deceased donor relies on keeping the organ viable after the death of the donor and the team working with the 32-year old Brazilian mother transplanted the uterus after it had been without an oxygen supply for eight hours. The success could greatly expand the number of women with uterine infertility who have previously only had the option of adoption or surrogacy to become mothers.
"The results provide proof-of-concept for a new treatment option for absolute uterine factor infertility,"
Wrote co-authors Dr. Dani Ejzenberg, an ob/gyn at the University of Sao Paulo and Hospital das Clínicas in Brazil, and Dr. Wellington Andraus, a transplant surgeon at the Sao Paulo University School of Medicine in the study.
Surgeons spent 10 and a half hours plumbing in the organ by connecting veins, arteries, ligaments and vaginal canals. After surgery, the anonymous recipient remained in intensive care for two days before spending another six days on a specialized transplant ward.
She received five immunosuppression drugs to prevent her body from rejecting the new organ, as well as other treatments to combat infection and blood clotting. Once the uterus was successfully incorporated into her body, she received fertilized eggs produced by IVF.
A baby girl weighing 2.55 kilos was born by cesarean section after a pregnancy lasting 35 weeks and three days. During the delivery, the transplanted uterus was removed and showed no abnormalities.
"The use of deceased donors could greatly broaden access to this treatment, and our results provide proof-of-concept for a new option for women with uterine infertility."
– Dani Ejzenberg, at Sao Paulo University, Brazil, who led the team.
Advertisement
Reference:
Dani Ejzenberg et al. Livebirth after uterus transplantation from a deceased donor in a recipient with uterine infertility DOI:https://doi.org/10.1016/S0140-6736(18)31766-5