Two stone statues believed to be thousands of years old have been found in the mud in a suburb of Cairo. One is an eight-meter-high stone giant described as "one of the most important discoveries ever."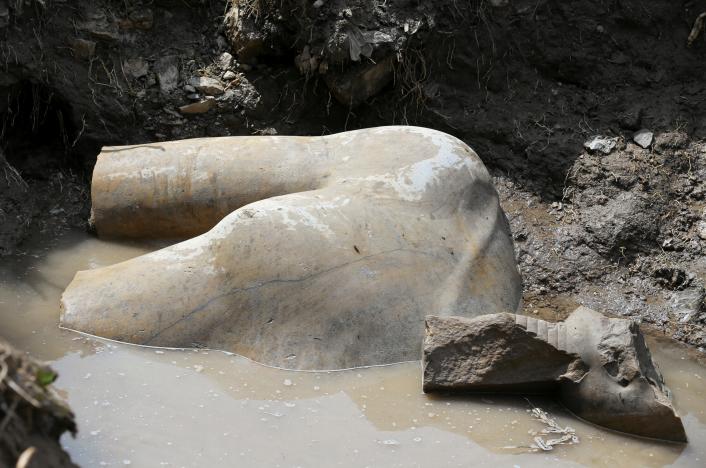 Archaeologists have discovery two pharaoh statues found in northeastern Cairo, the TV channel al-Jazeera reports. The statues are believed to be from the 19th Dynasty, which means that they can be dated to between 1314 and 1200 BCE.
Advertisement
One of the statues is eight meters high and was described as "one of the most important discoveries ever" by Khaled al-Anani, Egypt's Antiquities Minister.
"Last Tuesday they called me to announce the big discovery of a colossus of a king, most probably Ramses II, made out of quartzite," al-Anani said to Reuters.
Archaeologists, officials, locals and journalists were at the site when the head of the large statue on was lifted out of the water in an excavated pit.
The site is located where the Pharaonic capital city of Heliopolis, which is now part of Cairo, once stood. Most of the buildings belonging to the ancient Pharaonic city was destroyed in ancient times.
The discovery was made by a group of German and Egyptian archaeologists in cooperation, this team also found a small statue of Pharaoh Seti II, Ramses II's grandson. The small statue is only about 80 centimeters long.
"The discovery of the two statues shows the importance of the city of Heliopolis, which was dedicated to the worship of Ra [the sun god]", Aymen Ashmawy, the head of the Egyptian team on the dig, told al-Jazeera.
Advertisement
Dietrich Raue, head of the expedition's German team, told Reuters that ancient Egyptians believed Heliopolis was the place where the sun god lives, meaning it was off-limits for any royal residences.
Guardian Wires: