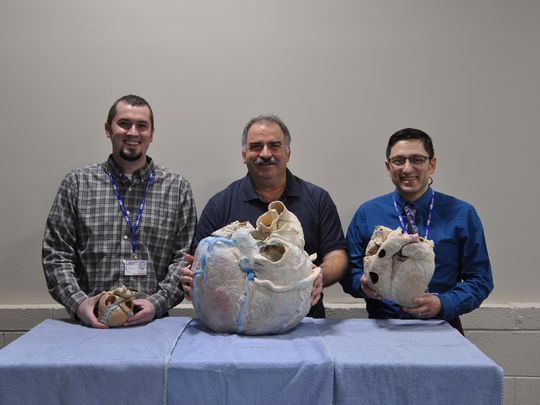 Veterinarians in the United States have studied differences and similarities between the hearts of elephants and blue whales and noticed that they are surprisingly similar.
Elephants and blue whales are the two mammals that have the largest blood pumps on the planet.
The veterinarians at the Faculty of Veterinary Medicine at Lincoln Memorial Memorial were a little surprised when they noticed that the hearts were quite similar. The hearts are very similar in shape and form.
The elephant heart isn't shaped like a Valentine, but rather has a rounded, broad apex similar to that of the deep-diving blue whale.
But by contrast, the heart of the 23-meter-long blue whale was smaller than expected – about 1.5 meters high and 1.5 meters wide (5-feet-wide and 5-1/2-feet-tall). The African elephant's heart that was studied was about 60 centimeters high and 60 centimeters wide (2-feet-by-2-feet-by-1.5-feet).
"The blue whale heart is pretty unique because it's the largest of all the animals on the planet; at least that's what we believe,"
"This is a continuation of that same study. The interesting thing is we're seeing similarities between elephant hearts and large whale hearts."
– Paul Nader, a veterinarian and assistant professor of veterinary anatomy and wildlife/zoo medicine.
The studies on the great mammalian heart are part of a project whereby researchers at LMU in Virginia, USA, collaborate with German researchers.
Reference:
New Study Finds Connection Between Elephant and Whale Hearts