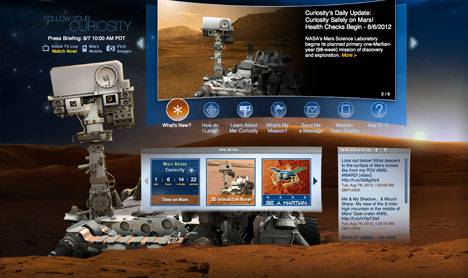 Since the successful landing of Curiosity on the 6th of August NASA has begun receiving images to be released photos to the public. Taken by some of the robot's 17 cameras.
And we can now look forward to seeing many more high-resolution images from the surface of Mars. Assuming that all is well with the rover's instruments after its rough landing.
Advertisement
But for those of you who want to do a dive deeper into the Curiosity mission on Mars now already, a mission that will last for several years, NASA has now launched several Web services. And several of which are interactive.
With "Free Drive" you can navigate yourself in a 3D-model of Curiosity on the Mars surface and explore the planet.
Anyone who wants to learn the technical details of the robot rover selects the "Learn About the Rover,". In which various the functions are displayed with 3D animations.
"Curiosity's Journey" shows a 3D robot in addition to new photos from Mars. There are also links that open up new interactive services for exploration of the Gale Crater, which is the area in which Curiosity has landed.
The landing on Mars is shown in an additional interactive service. It presents the entire landing on the planet's surface as a 3d-animation with information on the different stages.
Advertisement
You might wonder what it looked like when Curiosity landed. Here is your answer. The Curiosity Mars Descent Imager (MARDI) captured the rover's descent to the surface of the Red Planet. The instrument shot 4 fps video from heatshield separation to the ground.
________________
www.nasa.gov
________________________________