The companies General Motors, Ford, Daimler, and Renault-Nissan are at the top when companies are ranked in connection to making autonomous vehicles a very real future.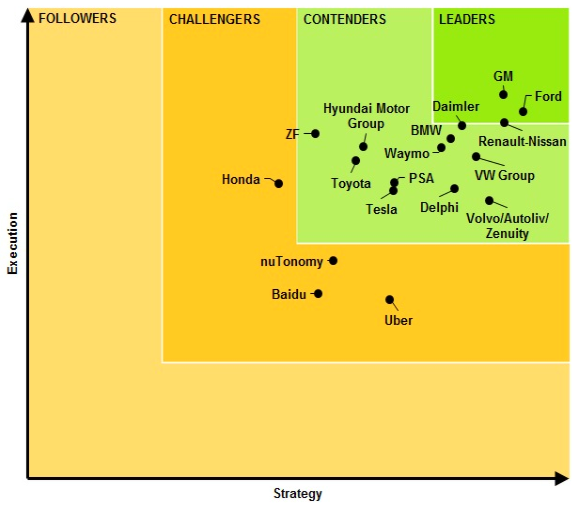 The Chicago-based market research company Navigant Research, with 2,500 employees, analyzed how 18 companies relate to each other in the pursuit of autonomous vehicles.
Advertisement
Navigant Research examined the companies on based on given parameters relating to performance and strategy. They were then placed in a matrix with execution on one scale and strategy on the other. Four different categories were defined: Leaders, contenders, challengers and followers.
In the category of leaders, we find the four major car manufacturers GM, Ford, Daimler, and Renault-Nissan. In the category of contenders, we find a number of companies of different types: Volkswagen, BMW, Google company Waymo, Volvo / Autoliv / Zenuity, Subcontractor Delphi, Hyundai, Component manufacturer ZF, Toyota, Tesla and PSA Peugeot Citroën.
Honda, the software company Nutonomy, Chinese search engine company Baidu and taxi company Uber was placed in the challenger category. No company was placed in the follower's category.
The companies' ability to perform on the market were evaluated based on the below parameters, taking into account geographical scope or lack of technical ability.
For sale, marketing and distribution.
Product capacity
Product quality and reliability
The company's strategy was evaluated via the below parameters:
Vision
Marketing strategy
Collaborators
Long-term production strategy
Every rated company develop complete systems that often include mobility solutions and Navigant research outlines a future when most people will use autonomous vehicles through mobility services, rather than individual ownership (like paying for Spotify instead of buying CDs).
Advertisement
Reference: