A German electric car is covered with solar cells that increase mileage.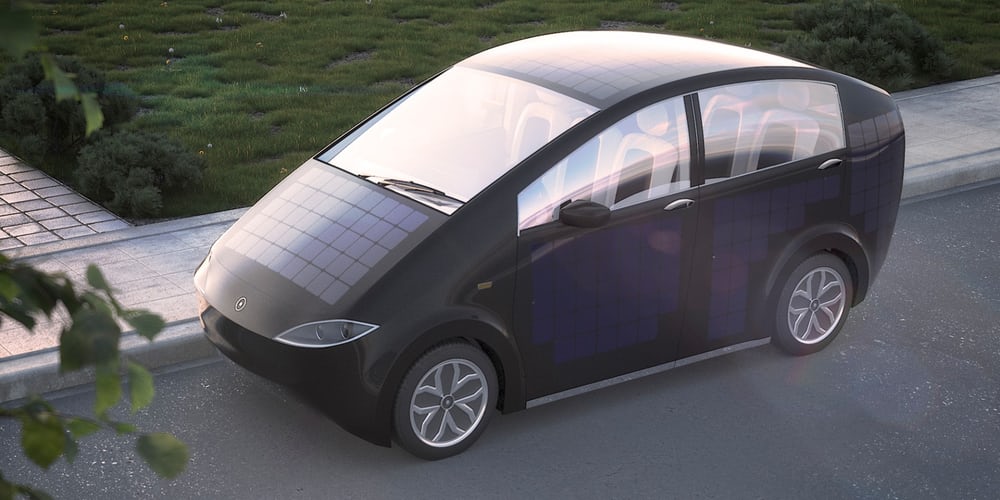 The car manufacturer Sono Motors is developing an electric car covered with 7.5 square meters of solar cells with an efficiency of 22 percent and a peak power of 1.14 kW.
After a day in the heat of the sun, the solar cells provides extra power to the battery that increases mileage by an average of 30 kilometers. But Sono believes the distance could be doubled.
The car, named Sion will be manufactured in two models for which the batteries in 'Urban' stores 14.4 kWh, while the capacity in 'Extender' is 30 kWh. One charge gives the car a total mileage of either 120 km or 250 km.
The Sion engine of 50kW gives it a top speed of 140 km/h and the batteries can be recharged to 80 percent in about 30 minutes.
When the car is parked, the solar cells can be used to charge other devices, for example, to recharge phones, tablets, or perhaps to power a fridge at the campsite.
After a successful round of financing on Indiegogo, the project raised € 220,000 (circa 250,000 US dollar) for continued development. Sono aims for the first cars to reach the market in 2018.
The price for Urban is estimated to be about $ 13,500 and $ 16,000 for Extender, but that does not include the cost of buying or leasing batteries to the car.
The images and videos presented by Sono do not show a prototype, but computer-generated renderings.
Reference:
INDIEGOGO: Sion. A Solarcar for everyone.
Sono: Charged by the sun
http://www.nyteknik.se/teknikrevyn/solen-ger-elbilen-extra-skjuts-6790662?utm_campaign=unspecified&utm_content=unspecified&utm_custom[apsis]=435503834&utm_medium=email&utm_source=apsis-anp-3